Product
SOTUE MC839SA Medical portable type oxygen concentrator
Introduction:
SOTUE model No. MC839SA Oxygen Concentrator is an intelligent medical oxygen concentrator with oxygen concentration, flow display and monitoring function. It can provide 5 liters (optional 10 liters) oxygen output with high concentration and its output is adjustable, it integrates high-tech technology. It is widely used in homes, hospitals and so on to fight COVID-19 virus, Delta virus, flu and other diseases.
Feature:
1. The oxygen concentration monitoring system provides multiple guarantees for a long-term safe use.
2. The silent sound is designed.
3. Color display, user-friendly interface.
4. Advanced PSA (pressure swing adsorption) technology, high efficiency lithium molecular sieve.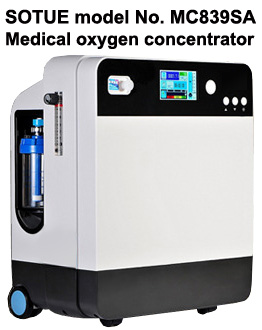 Optional absorption tube assembly: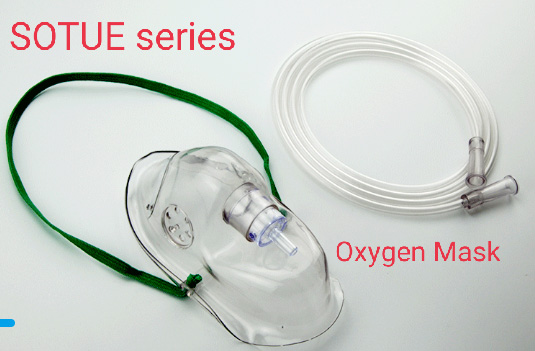 Countdown display (Optional).
Cumulative timing (Optional).
Remote control (Optional).
Real time display oxygen concentration.
Multistage bacterial filtration.
Technical parameter:
Oxygen flow: 5 liters.
Oxygen flow: 1 ~ 5 litres / min.
Oxygen concentration: 93% ± 3%.
Optional o
xygen flow
: 10 litres / min., o
xygen concentration: 93% ± 3%.
Power consumption: 280 watts
Oxygen concentration monitoring range: 30 ~ 96%.
Output pressure: 50 ~ 70 kPa.
Dimensions: 413 mm x 270 mm x 480 mm
Power supply: AC110, AC 220 V ± 10%, 50 Hz.
Conform to European Medical Device Directive (MDD) 93/42/EEC and EMC Directive 2014/30/EU international safety standards.
Have European CE and EMC international Medical Device standard certificates.