Product
SOTUE SS663D inspection shoe metal detector
Application:
The places which shoes are not easy to take off, SOTUE SS663D inspection shoe metal detector can quickly inspected dangerous articles which are hidden in shoes. Such as: blade, small saw blade, hairpin, all kinds of precious metals and so on. It can be used in conjunction with hand-held metal detectors for security inspection, it is widely used in airport, court, prison, customhouse, exhibition site, embassy, factory, amusement place and so on.
Feature:
1. sensitivity adjustment. can adjust the high or low sensitivity, can eliminate inherent metals (such as spikes ect.) in shoes.
2. sound and light alarm: when the metal is detected, the buzzer and the alarm lamp simultaneously give out alarms.
3. Left and right feet at the same time can be detected: by the alarm lamp display, you can distinguish which shoe is hiding metal. You can quickly finish the security inspection work.
4. Count function: display alarm count.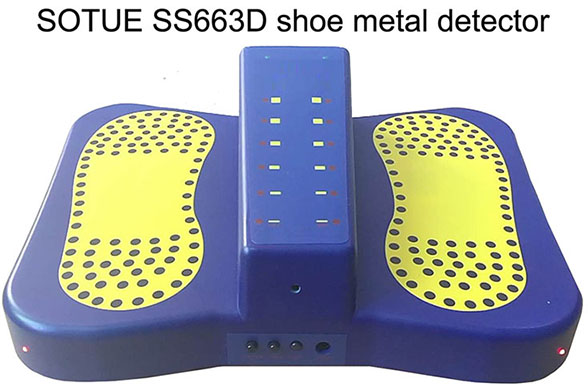 Technical data:
1. Operating temperature: - 5℃ ~ +55℃.
2. Working humidity: 5% ~ 95%RH.
3. Maximum load: 155kgs.
4. Net weight: 1.65kg
5. Detection Distance:
Distance of detection clip: 300 mm.
Distance of detection RMB one Coin: 40 mm.
Distance of Detecting art knife: 95 mm.
6. Size: Length 399 mm x width 378mm x height 99 mm.
7. Power supply: 110V~ 220V (±10%). 50 / 60Hz, DC 15V.
Technical standards:
1. Conform to EN 60950-1:2006+A11:2009+A1:2010+A12:2011+A2:2013 product safety international standard. Conform to EN 55011:2009+A1:2010 and EN 61326-1:2013 product safety international standards. Conform to EN61000-3-2:2014 & EN61000-3-3:2013 product safety international standards.
2. Conform to EN 61000-6-1:2007 product immunity international standard and radiation conforms to EN 61000-6-3:2007 +A1:2011+AC:2012 product emission international standard.
3. Conform to existing walk-through metal detector GB15210-2003 standard. Conform to U.S.A. FAA 3-gun testing standards and NILECJ-0601-00 safety standards.
4. Conform to ECAC international Security standard. Conform to U.S.A. Transportation Security Administration (TSA) standard.