Product
SOTUE FD300DV conveyor type x-ray inspection food system
Application:
FD300DV x-ray inspection food and medicine system can detect all kinds of packed and no packed products, such as food (for example: bread, fast food, dim sum / snack, beef, fish, chicken, pork, mutton, etc.), medicine, chemical products, etc., can find metal, glass, ceramic, stone, bone, hard rubber, hard plastic in food, medicine and chemical products and so on, and can provide excellent product integrity detection and identify product defects etc..
Feature:
Support data interface: LAN Port, USB Port.
Protection: protective soft curtain (removable).
Alarm mode: sound and light alarm, stop. Optional: automatically remove the unqualified products
Technical data:
Inspection tunnel size: 180 mm (W) × 250 mm (H).
Best detection accuracy: SUSφ 0.3 mm stainless steel ball, SUSφ 0.2 x 2.0 mm stainless steel wire.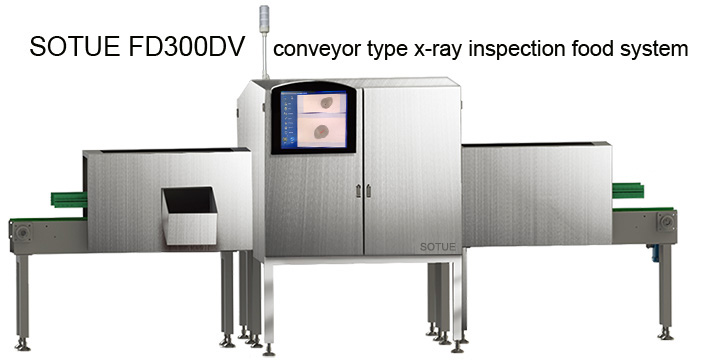 X-ray generator: 120kV.
Conveyor speed: 10 ~ 70 m / min.
Display: 17 inch color touch screen monitor.
Working environment:
Temperature: -10℃-40℃ (cooling: air conditioner).
Humidity: 30%-90%, no frost (humidity control: dehumidifier).
X-ray leakage: <1μSv / hour.
Power supply: AC 110V ~ 220V (±10%) 50/60Hz, Max. 1.5kVA.
Protection level: IP66.
Body material: 304 stainless steel.
Conveyor maximum load: 5.0 Kg (Standard).
Technical standards:
1. Conform to EN 60950-1:2006+A2:2013 product safety international standard. 2. Conform to EN 61010-1:2010 product safety international standards.
3. Conform to EN55011:2016 product safety international standard, conform to EN61000-6-2:2005 product immunity international standard.
4. Conform to EN61000-3-2:2014 and EN61000-3-3:2013 product safety international standards.
5. European CE and EMC international safety standard certificates. Conform to FDA standard and requirement.