Product
SOTUE TIC189B hand-held binocular thermal imaging telescope camera
Application:
SOTUE model No. TIC189B hand-held binocular thermal imaging military telescope is a hand-held thermal imaging camera with photographing video functions, uses 384 × 288 uncooled focal plane detector with small size, light weight, rugged, easy operation, environmental adaptability, etc., it can complete all-weather surveillance, anti-smuggling and search requirements in a variety of harsh environments, widely used in police system and army.
Feature:
1. Amorphous silicon uncooled FPA detector. Full-time display. Display external monitor and Binocular OLED display.
2. Wide FOV, observation distance is farther, binocular observation is more comfortable and more convenient.
3. Record image function, can photograph images. E-fold focus. Focus: Manual and Automatic. Function: Gain Brightness.
4. OLED binocular display pixel 800 x 600 resolution. Encapsulation: IP67 protection grade, military grade.
5. Manual and Automatic. Enhancement. Electronic zoom: 2X. Photo/Video record. Storage card memory: 6GB, or optional.
6. USB port: Transmit data/images to a computer for storage and analysis. Video out: CCIR and PAL. Remote control: RS422. Optional: can connect to a monitor display.
Video function: built-in record image function, it is also able not to need to connect external video equipments, auto-play function by itself.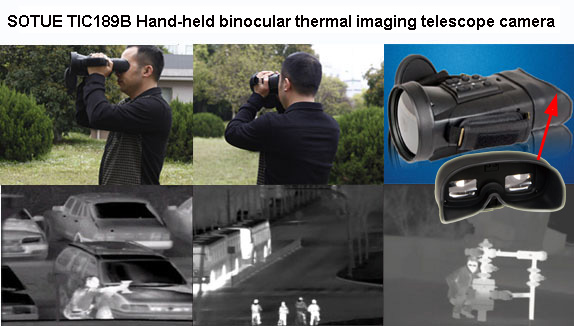 Technical data:
1. Display pixel 800 x 600. Lens 75mm / F0.8. Image Storage: Storage Capacity 1000 image. File format: JPEG and AVI. Sensor spectral range: 8 - 14 µm.
2. Environmental: Operating temperature: -30℃ ~ +50℃. Storage temperature: -40℃ ~ +60℃.
3. Consumption: ≤ 4.5W. Video output: PAL, 75Ω. Weight ≤ 1.52 Kg. Dimension: 263(L)mm × 128(W)mm × 113(H)mm.
4. Day and night vision detection distance: 1880 m for people ( 1.8*0.5 m ), 2400 m for car ( 2.3*2.3 m ).
Recognition distance: 830 ~ 860 m for people ( 1.8*0.5 m ), 1150 ~ 1200 m for car ( 2.3*2.3m ).
5. Rechargeable Lithium Battery: continuous work for 3 hours. Power Supply: DC 10-15V, car cigarette lighter, 110 ~ 220V(±10%)
Technical standards:
1. Conform to EN 60950-1:2006+A11:2009 international safety standard and EN 61010-1:2001 international security standard.
2. Conform to EN61000-6-2:2005 product immunity international standard. Conform to international military security standards.