Product
SIIE SDH-936A high sensitive hand-held metal detector, hand-held inspection needle detector
Application:
SIIE SDH-936A hand-held inspection needle metal detector is widely used to inspect knitting, clothing, shoes, socks, medicines, food, chemical raw materials and ferromagnetic material, also for the human body security inspection, also used to inspect livestocks, wounds, wood, walls, tables and other objects which contain metals, it is very suitable for customs, frontier defense and other security checks. It can also check persons, hand-held luggages, mails and parcels, is able to locate a needle or minimum metal at a close distance and locate weapons, parts of weapons, ammunition, explosives in metal covers, etc.
Feature:
1. New design shape helps you to grip for long time without fatigue. ABS-plastic shell. Long life.
2. SDH-936A detector adopts high sensitive switch, its maximum detection sensitivity: Feφ≥ 0.3 mm steel ball. High sensitivity: such as Iron ball diameter Feφ 1.0 mm, its inspecting height can be to 10 mm up.
3. Battery saving function: when it is standing by, its battery mode is changed for saving mode automatically to save battery consumption. New design detecting circuit is a low electric consumption.
Technical data:
Detection method: Magnetic induction. Detection sensitivity: Feφ ≥ 0.3 mm. Detection face size: 43 mm * 33 mm. Alarm method: Lamp, Buzzer or Vibration. Power supply: 9V dry battery, 6F22 DC. Dimension: 145 mm (L) * 57 mm (W) * 46 mm (H). Weight: appr. 160g. Temperature: -5℃ ~ +45℃. Vib: Vibration alarm. Ala: Sound alarm.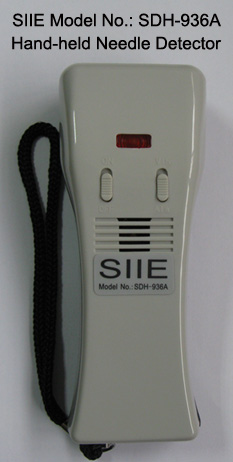 Technical standards:
1. Conform to EN 60950-1:2006+A11:2009 product safety international standard. Conform to EN 61010-1-2010 and EN 61010-031: 2002+A1:2008 product safety international standards. 2. Conform to EN61000-3-2:2007+ A1:2011 and EN61000-3-2:2006+A1:2009 +A2:2009 product safety international standards. Conform to EN 61000-3-3:2013 product immunity international standard. Radiation conforms to EN 61000-6-1:2007 product emission international standard. conforms to EN 61326-1:2013 product international safety standard. 3. European CE and EMC international safety standard certificates.