Product
STT CNM-88 platform type inspection needle detector
Application:
STT CNM-88 table top type needle detector is used for the detection of toys, shoes, hats, non-woven products, high elastic cotton clothing, paper, plastic plate and other items.
Features:
1. Main electronic parts that Japanese company have manufactured. 2. Ten grades sensitivity adjustment, magnetic induction. 3. Alarm: sound & two automatic alarm signal lights so that you can find the broken needle easily. Anti-static cover, SMD technology. Touch-button integrated control panel. 4. Detection distance: iron pin diameter 0.7 * L25mm, its detection distance is about 8cm height on the detector surface. 8 LED detection location display is easy to locate the place of the broken steel needle, (Optional).
Technical data:
1. Power supply:110~230V, 45~65Hz , desingned for universal AC power supply (full range). Rated output: Appr.10w. Weight:11Kg. 2. Detection sensitivity: Feφ ≥ 0.8~1.0mm. Volume: 690 (L) * 375 (W) * 83 (H) mm. Detection surface size: 130mm(W) * 490m(L).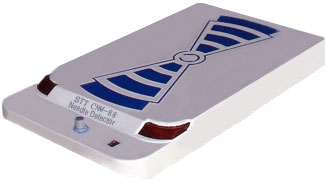 Technical standards:
1. Conform to EN 60950-1:2006+A11:2009 product safety international standard. Conform to EN 61010-1-2010 and EN 61010-031: 2002+A1:2008 product safety international standards. 2. Conform to EN61000-3-2:2007+ A1:2011 and EN61000-3-2:2006+A1:2009 +A2:2009 product safety international standards. Conform to EN 61000-3-3:2013 product immunity international standard. Radiation conforms to EN 61000-6-1:2007 product emission international standard. conforms to EN 61326-1:2013 product international safety standard. 3. European CE & EMC international safety standard certificates.