Product
SIIE SU838D big deep underground metal detector / gold detector / ground search landmine detector
Application:
SIIE SU838D underground metal and gold detector is mainly used to detect and recognise the dormant underground metal objects and illegal objects that contain metal, it can detect gold, silver and other valuable metals, it is used widely in police system, engineering company, archaeological investigation, detecting ancient burial places, telecom department, prospecting mine & detecting landmines for army.
Feature:
1. Automatic power supply button: OFF - ON. Its waterproof detection head can be used to detect metals in water, its operation display control panel is not waterproof.

2. Pinpointing target: Locating a target is fast and precise. Automatic ground balance system makes it automatically adapt to detect the ground, for example: detecting the soil in shrubs or trees and other places.

3. The detecting underground metal depth ability is up to 3.5 ~ 5.0 m. The Discrimination Turn Button is used when its MODE is set to "DISCRIMINATION". When we rotate the " DISCRIMINATION " button to a different position for detection, we can differentiate the ferrous metal and non-ferrous metal ( gold and silver ) locations in the ground via the moving direction of the meter pointer on this operation control panel. You can visibly see that its operation control panel displays the ferrous metal and non-ferrous metal ( gold and silver ) locations.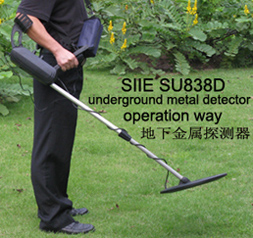 Technical Data:
Battery: 8 x 1.5V. Operating current: 18 ~ 50mA. Operating voltage range: 12V. Sensitivity: detect coins of 35 US cents, its detection height is 40 cm.
Audio Frequency: 430 Hz. Signal Frequency: 7 KHz.
Dimension: 1370 mm (L) x 330 mm (W) x 262 mm (H). Net weight: about 3.0 kgs.
Best work length:1.0 m ~ 1.3 m. Product work length has retractility, its using length can be adjusted by a user.
Technical standards:
1. Conform to EN 60950-1:2006+A11:2009+A1:2010+A12:2011+A2:2013 product safety international standard. Conform to EN 55011:2009+A1:2010 and EN 61326-1:2013 product safety international standards. Conform to EN61000-3-2:2014 & EN61000-3-3:2013 product safety international standards.
2. Conform to EN 61000-6-1:2007 product immunity international standard and radiation conforms to EN 61000-6-3:2007 +A1:2011+AC:2012 product emission international standard. Be harmless to pregnant women and magnetic recording materials.
3. Conform to existing metal detector GB15210-2003 standard. Conform to U.S.A. FAA 3-gun testing standards and NILECJ-0601-00 safety standards.
4. European CE and EMC international security standard certificates.