Product
SIIE AMH1200 6-zone alarm high security rainproof walk-through metal detector
Application:
SIIE AMH1200 is a rainproof multi-zone alarm high security walk-through metal detector, when people pass through it,it can detect any small mass metal, and by hand we can adjust its sensitivity for high sensitivity or low sensitivity to detect a small metal or a big metal. It is used widely in loss prevention and security inspection, used widely in ports of entry, seaport, airport, court, prison, customhouse, gym place, exhibition site, plating factory, electronic factory, optical factory, hardware factory, amusement place, etc., can inspect persons, hand-held luggages and parcels, it can locate a small metal, IED-device, weapons, ammunitions, parts of weapon and bomb, can also detect drugs packed with Tin Foil paper. We have provided and exported OEM products for some customers in Japan, the United States and Europe for more than 15 years history.
Feature:
AMH1200 rainproof function: it can be put in an outdoor place to use normally.
1. Complete security detection and multi-zone warning displays. Very high discrimination and detection speed. High immunity to external interferences and high reliability with double side alert of this door, LED lights display the alarm in two sides of this door. Six partition alarm zones from head to toe are displayed on alarm locations of two sides of this door. Overall gate sensitivity adjustment for 100 grades, and each zone can also be individual adjustment sensitivity for 100 grades. Highly visible alarm displays: Provide the location of weapon in transit.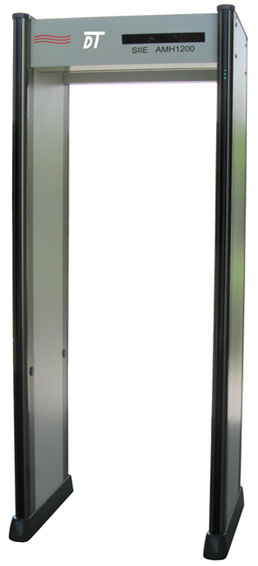 Automatical calculating passer number and alarm number functions, LED display digits. Induction to all metals, and have intelligentized recognising processing functions. Automatic checking and recovery function.
2. It has six detecting zones in it, such as: zone 1, zone 2, zone 3, zone 4, zone 5, zone 6. When carrying any small mass metal passes through it and it detects this metal, its alarm will be given out, you can get an accurate warning location, objective location alarm lights are displayed in two sides of this door. Adjustment Sensitivity by hand.
Technical data:
Power supply: 110v ~ 220v (±10%), 50 / 60Hz. Signal frequency: automatic adjustment. Power: 35W. Overall exterior gate dimension: 2220 mm (H) * 820 mm (W) * 700 mm (depth). Working environment: -20 ℃ ~ 60 ℃. Weight: about 85kgs. Dimension of gate passageway interior: 1990 mm (H) * 700 mm (W) * 700 mm (depth). Optional: Communication port RS232 or RS485.
Optional: 18 detection zones. Adjustment sensitivity for 200 grades. IP 65. Remote control device. Power supply: 220v (±10%), 50 / 60Hz. Power: 35W. Weight: about 80 kgs. Overall exterior gate dimension: 2320 mm (H) * 820 mm (W) * 700 mm (depth). Dimension of gate passageway interior: 2100 mm (H) * 700 mm (W) * 700 mm (depth).
Technical standards:
1. Conform to EN 60950-1:2006+A11:2009+A1:2010+A12:2011+A2:2013 product safety international standard. Conform to EN 55011:2009+A1:2010 and EN 61326-1:2013 product safety international standards. Conform to EN61000-3-2:2014 and EN61000-3-3:2013 product safety international standards. 2. Conform to EN 61000-6-1:2007 product immunity international standard and radiation conforms to EN 61000-6-3:2007 +A1:2011+AC:2012 product emission international standard. Be harmless to pregnant women and magnetic recording materials. 3. Conform to existing walk-through metal detector GB15210-2003 standard. Conform to U.S.A. FAA 3-gun testing standards and NILECJ-0601-00 safety standards. 4. European CE and EMC international security standard certificates, conform to ECAC international Security standard. Conform to U.S.A. Transportation Security Administration (TSA) standard.