Product
TECOS TX179 LCD hand-held x-ray inspection scanner
TECOS TX179 LCD hand-held x-ray inspection scanner is a new type of x-ray medical scanner and parcel & baggage scanner in the world. It is safe and no harm to human. We adopted MCP - X-Ray image strengthening technology, and it has high discrimination and high resolution capacities, this device can produce clear real-time images without darkroom. TX179 scanner's operation is very simple and easy. You will only make it connect to the power supply, then you will press the " START " button, it will begin to work, you will use it to scan your objects, then TX179 scanner' screen clearly displays suspicious images.

TX179 products have been exported to Congo, Syria, Lybia, Egypt, South Africa, Kenya, Nigeria, Malaysia, Indonesia, Vietnam, Brazil, Spain, Turkey, Iraq, India, Italy and Russia. We have provided its OEM products for our customers of Japan, the United States and Europe for many years.
Application:
TX179 scanner takes strict precautions and the operators don't need any protections and training, it conforms to ISO9001:2015 international quality control standard procedures.

Medical inspection: it's widely used in pediatrics, dentistry, hospital orthopedic, foot surgery & other departments, and is widely used for the immediate diagnosis in the emergency ward and simple surgery, also used for diagnosis of childbearing age women and birth control ring inspection in hospitals and for the inspection of athletes.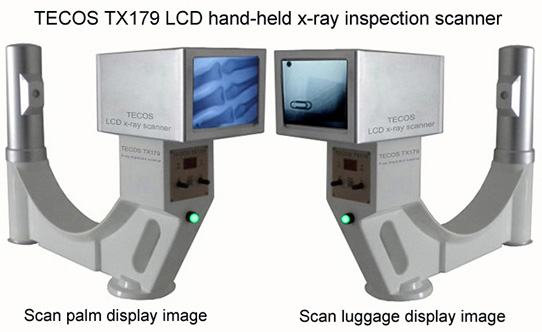 Industrial inspection: especially, it applies to various field rescues, such as: industrial materials & apparatus quality inspection, harmless inspection to aluminum casting, alloy casting, electronic integration piece and high voltage bundle, and so on.

Security inspection: widely used in fieldworks, supermarkets, companies, private places, VIP places / meetings, government departments, security departments, armies, customs and mail departments to inspect small parcels, hand-held baggages, etc.. It can provide outstanding threat detection and can show the threat image projection.
Technical data:
Output image size: 100 mm (W) x 75 mm (H). LCD display image, OPTIONAL: it can be connected to a computer or a monitor for watching. Survey thickness: ≤ 320mm, Ratio: ≥ 4%. X-Ray tube voltage: 50 ~ 90KV continual adjustment. Gray level: ≥ 10 level.
Voltage accuracy: ≤ ±1%. Current accuracy: ≤ ±2%. Releasing current: 1A. Temperature: -10 ºC ~ 50 ºC. Resistance maximum: 0.5. Resolution: ≥ 40LP/cm.
Tube current: 0.2 ~ 0.5mA continual adjustment. Main engine working frequency: 20 KHz. Opposite humidity: ≤ 80%.
Conform to Chinese National Standard: GB9706.12. P
ower supply: 110V ~ 220V (±10%), 50 ~ 60Hz. Power consumption: 80W. Dimension: about: 550 (L) x 350 (W) x 200 (H) mm. Weight: about 9.5Kg
Technical standards:
1. Conform to EN 60950-1:2006+A11:2009 international product safety standard. Conform to EN 61010-1:2001 international product safety standard.
2. Conform to EN55011:2009 international product safety standard, conform to EN61000-6-2:2005 international product immunity standard.
3. Conform to EN 60601-1:2006 international medical device safety standard. Conform to EN 60601-1-2:2007 international medical device emission and immunity safety standards