Product
SOTUE SX266A hand-held x-ray inspection system
Application:
SOTUE SX266A portable x-ray inspection system ( baggage scanner, medical x-ray scanner ) is used for explosive & suspicious dangerous goods inspection, it can be installed in helicopters, police cars, etc., widely used in Customs, public security, police, ambulance, postal, jail, troops and other security departments for explosion scene & postal parcel security checks and for bone-setting immediate medical diagnosis inspection and so on. Industrial inspection. Medical inspection. Parcel & Baggage Security inspection.
Function:
1. Software platform, easy to operate it. Multi-function image processing system. Image database to facilitate storage and retrieval. Battery is applicable to a variety of working environment. Rechargeable battery, 220V and a car cigarette lighter power supply can work. Small size, strong penetration force & long life. Data transmission network to facilitate the exchange of information (optional).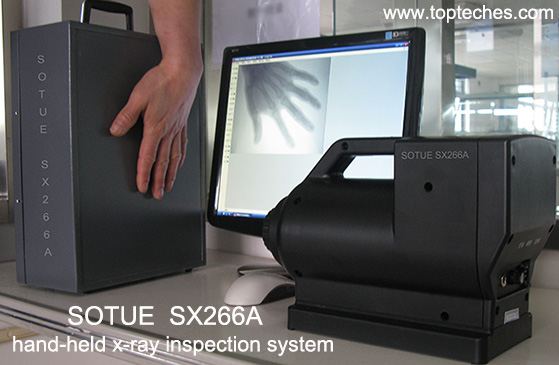 2. Software:
Image enhancement, contrast adjustment, image overlay and adjust the brightness contrast. Image to be enlarge & reduced. Deal with the image part to be enlarged and narrowed. Database to store images, pseudo color and microwave processing. Image to be fronted and reversed, image profile to be processed. It can provide outstanding threat detection and can show the threat image projection.
Technical data:
1. X-ray dose: 3 mR per pulse, every pulse to penetrate 50 mm thick aluminum plate, 5 mm thick steel plate ( distance ≥ 300 mm ). 2. X-ray sources: 6.5 Kg. Image Acquisition: 3.0 Kg. Resolution: 768 x 512. Pixels: 0.6 ~ 0.7. Pulse width: 100 ns. 3. Bit rate: 8 Bits. Image acquisition size: 200 x 270 mm. Visual field: 260 x 350 mm. 4. Pulsed light: 1 ~ 5 times /second. Output voltage: 80 ~ 150KV. Power supply: 29V rechargeable battery or power supply: 110V, 220V(±10%), 50/60 Hz. 5. X-ray dose conforms to Chinese National Standard: GB9706.12, it is safe to healthy human.

Technical standards:
1. Conform to EN 60950-1:2006+A2:2013 product safety international standard. 2. Conform to EN 61010-1:2010 product safety international standards. 3. Conform to EN55011:2016 product safety international standard, conform to EN61000-6-2:2005 product immunity international standard. 4. Conform to EN61000-3-2:2014 and EN61000-3-3:2013 product safety international standards. 5. European CE and EMC international security standard certificates. Conform to FAA 3-gun testing standards and NILECJ-0601-00 safety standards.